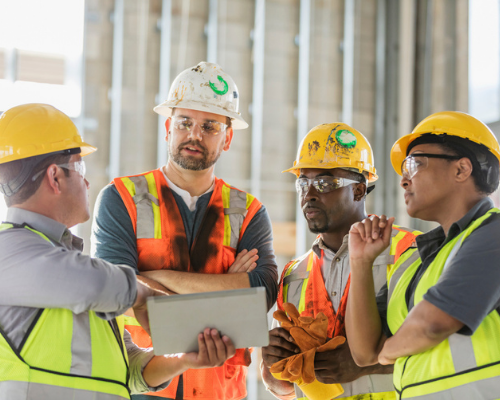 2020 was a tumultuous year for construction, as it was for many organizations that had to quickly adopt to working remotely and removing paper from their processes.  The 2020 Construction Technology Report from JBKnowledge, now in its 9th year, shows the impact on IT staffing and use of construction technology among construction firms, covering a cross section of the industry.
IT staff continued to grow in 2020 with 30 percent of respondents reporting an increase and 59 percent maintaining staff compared to just 9 percent reporting a decrease. This comes on the heels of 49 percent of companies reporting an increase in IT staff in 2019. "This year the IT staff was taxed immensely," says James Benham, CEO of JBKnowledge and host of The ConTechCrew podcast. "They've been setting up work from home for everyone possible and digitizing paper processes."
Unfortunately, technology budgets remained flat, perhaps due to increasing economic worries about the effects of the pandemic on business. When asked what factors they were most concerned about impacting their profitability, 85 percent if respondents cited economic conditions, compared to 73 percent in 2019.
Smartphones and mobile apps are key tools for construction
Smartphones are used for work by 92 percent of respondents, compared to 83 percent who utilize laptop computers, 65 percent who use tablets and 12 percent who utilize a smart watch.
The most popular uses for mobile devices include viewing project documents (78%), service dispatch and billing (74%), creating project documentation (71%) and entering payroll (71%). Sixty-three percent of respondents are using 3-6+ mobile apps, up from 61 percent in 2019.
Mobile apps are now a "must" for software buyers, according to the report. Only 10 percent of respondents said this feature wasn't important to them. The report highlights the most popular apps for various tasks such as daily reporting, managing photos and video, viewing BIM files, managing plans and controlling drones.
Software vs. spreadsheets
The study saw a small shift from using spreadsheets to dedicated software for workflows. Dedicated software for Project Management (60%), Take-Off (40%) and Bid Management (36%) each saw growth in 2020. Account/ERP software is the most commonly used among respondents (83%). Estimating remains the most dependent on spreadsheets.
Drones, 3D robotics and other technology tools
After rising five percent in 2019, drone usage hasn't grown over the past year, with 43 percent of survey respondents reporting usage. Benham believes it may be because a lot of companies haven't gone beyond using the drone for marketing videos. "The No. 1 app for drones is DJI, and it has no construction functionality," says Benham. "Companies are missing out on 90 percent of the drone's capabilities."
Other tech hardware showing growth in usage over the past year including Robotic Total Stations, 3DScanners, and TigerStop, an automated measuring and cutting tool. Benham believes these tools demonstrate their ROI quickly to contractors.
Augmented Reality (14% usage) and Virtual Reality goggles (4% usage) are used by a much smaller number of survey respondents, but 34 percent of those using them reported that AR/VR/Mixed Reality tools are giving their companies a competitive advantage.
Prefabrication takes hold
One innovation that has clearly taken hold is pre-fabrication. Nearly 8 in 10 (78%) of respondents use prefabrication and 40 percent cited prefabrication as a technology that is giving their companies a competitive advantage. Benham believes COVID-19 is a contributing factor as companies seek to limit the number of workers on a jobsite at one time.
"You can control the manufacturing environment a lot more easily than the jobsite," says Benham. "The data shows prefab reduces mistakes and produces more tightly controlled work."  Nearly a quarter of respondents said they would use off-site construction more often in 2020.
Challenges to technology adoption
According to Benham, technology expenditures in construction still lag far behind other industries at just three percent of revenues. The average for all industries is 8.2 percent*.
Benham is disappointed not to see a growth in technology spending, despite a proliferation of software and technology targeting construction in recent years.
"Refusal to invest in technology leads to chronically low margins for the industry," he says.
The 2020 Construction Technology Report also highlights some of the challenges the industry faces with technology adoption. Budget and lack of staff to support the technology were cited by 19 percent of respondents as a limiting factor in technology adoption-leading other factors.
Integration of apps is an issue, with 27 percent of respondents reporting that none of their apps are integrated. Lack of integration means information needs to be manually entered, and data can sometimes be lost in the process.
Data security is another issue, with 13 percent of firms reporting a security breach in 2020, down from 15 percent in 2019. While just seven percent were not using any data security and management solutions, mobile security appears to be a weak point. Despite widespread use of smart phones for work, just 55 percent of respondents report using mobile device management for security and 35 percent said their company requested to secure and/or approve their mobile device before using it for work purposes.
To see how your company compares when it comes to IT staffing and budget, technology adoption and R&D, download a complimentary copy of the 2020 Construction Technology report from JBKnowledge here.
Join more than 40,000 industry peers who receive construction industry news and trends each week. Subscribe to CONEXPO-CON/AGG 365.