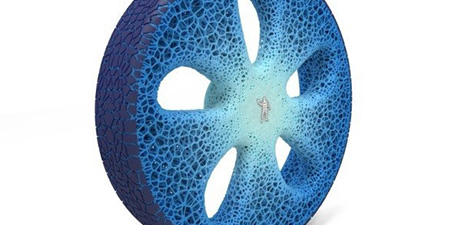 Can tires become more sustainable for construction? A new initiative aims to manufacture tires that use 80 percent sustainable materials and that 100 percent of all tires will be recycled by the year 2048.
According to the World Business Council for Sustainable Development, in 2018, 1 billion of end of life tires are generated worldwide, representing around 25 million tons. Today, the recovery rate for tires is 70 percent and the recycling rate is roughly 50 percent.
In order to contribute to a more sustainable future, Michelin has developed this new initiative and is investing in recycling technologies that will be able to increase to those numbers.
The company is working with research programs that are looking into bio-sourced materials like biobutterfly—which was initially launched in 2012 to create synthetic elastomers from biomass such as wood, straw, or beet.
In addition to developing new partnerships, Michelin is also working on developing solutions to integrate even more recycled and renewable materials into tires.
One example of how it is doing this comes on the heels of its recent acquisition of Lehigh, which specializes in high-tech micropowder, which are derived from recycle tires. It also offers micronized rubber powders (MRP), which is a sustainable raw material that reduces feedstock costs by up to 50 percent. This replaces oil-and-rubber-based feedstocks in applications.
Additionally, last year, Michelin unveiled its VISION concept, which leverages both advanced materials and 3D printing technologies to transform how it manufacturers tires.
The end result is 33 million barrels of oil will be saved per year, helping contribute to a healthier environment for all.
Join over 32,000 industry peers who receive construction industry news and trends each week. Subscribe to CONEXPO-CON/AGG 365.