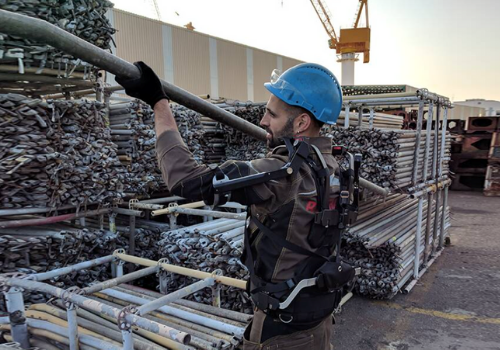 From augmented reality glasses to exosuits to smart boots, wearables have become one of the latest buzz words in the construction industry, but what is their real return on investment (ROI)?
According to MarketWatch, the global wearable technology market in 2019 was valued at approximately $28B USD and is anticipated to grow at a compound annual growth rate of more than 15 percent between 2020-2027.
Multicloud solutions provider, Rackspace Technology, says wearables can increase productivity in the construction industry by 8.5 percent and workplace satisfaction by 3.5 percent. Occupational Health and Safety and Health Administration (OSHA) says wearables could help lower insurance rates and improve employee safety and health.
"It's an interesting observation to see who is adopting the Trimble XR10 with HoloLens 2 first," says Jordan Lawver, Senior Business Area Manager, AR/MR/VR, Trimble. "I was expecting the largest construction and engineering firms to lead the pack, because they have the wallets to drive the technology, but I'm delighted to see many innovative customers are the smallest by size; their small size means they can be more flexible."
Wearables can be a technology that is already worn on the jobsite, such as the incorporation of Scan-Link RFID (radio frequency identification) tags into a standard work vest or helmet and sometimes they are a new item all together, such as the Aftershokz Aeropex bone conduction headphones, which transmits sound via the bone near the ear canal, so the user can hear the sounds coming out of the headphones while still hearing the environmental noise via their ear canal.
The use of wearables in construction falls into one of three main uses: data collection, communication, and worker enhancement.
With the variety of wearables on the market, construction workers can be equipped with wearables from head to toe.
Smart Helmet
Smart helmets monitor (and possibly communicate) data about the wearer, such as the wearer's vital signs. SmartCap makes a helmet that measures workers' fatigue levels and detects micro-sleeps.
Benefits:
Can alert safety personnel or management of a worker in distress and decrease the time it takes to aid that worker
Can prevent an accident before it happens by alerting and removing tired workers
Applications:
Long-haul truck driving
Early morning/late day and long hour shifts
During monotonous activities
Eyewear
Eyewear can be equipped with a camera, WiFi and augmented reality (AR) capabilities. The Microsoft HoloLens combined with Trimble offers customers AR capability showing the user both what is really in front of them and a digital image overlapping the same space.
"The Trimble XR10 with HoloLens 2 has three main use cases in construction–on-site design review, quality assurance/quality control validation and remote assistance," says Lawver. "The pandemic really accelerated the adoption of the last one. Users can face call through the Trimble XR10 with HoloLens 2 and people not wearing the device can see what the camera sees via WiFi."
Benefits:
More accurate work through superior project visualization
Less rework
Decreased downtime
Decreased travel time and costs
Easier collaboration
Faster problem solving
Optimizing use of your company's experts
Applications:
Installation of "behind-the-wall" building materials, such as electrical and plumbing
Building inspection
Equipment repair
Training
Exosuits
People imagine exosuits will give the user super strength so they can lift really heavy objects, but in actuality, they're designed so people can lift the same weights, but with less stress to their body. SuitX makes three exoskeleton products: a ShoulderX, a BackX and a LegX. They weigh seven to 10 pounds, respectively, and can be used individually or in combination with one or both other products.
Benefits:
Decreases stress on the body and worker fatigue
Decreases chance of injury
Increases productivity
Improves safety
Applications:
Lifting
Carrying
Repetitive motion activities
Working with objects above your head
"We are exploring different use cases for the SuitX products and it has been a learning curve, however, we are seeing them get used in a lot of applications," says Ben Harrington, Vice President - Sales and Business Development, SuitX. "Once people know how to use them and configure them properly, the sky is the limit."
Smart Boots
Boots can be equipped with sensors to monitor motion, location, falls and fatigue. Boots by SolePower can even produce energy when the user walks; two hours of walking provides one hour of talk time on an iPhone, and even illuminate.
Benefits:
Track worker location and certain worker activities
Portable power on the go
Safer walking at night
 Applications:
Working at heights
Working long hours
Walking at night
Accessories
Accessories are items in addition to regular construction clothing. This is true of the Caterpillar Smartband. The device monitors worker health and with the data collected allows for the prediction of circumstances in which accidents will happen.
And, the Spot-r clip from Triax proves not all wearables are sexy. Resembling a pager, the device alerts health and safety personnel of worker falls and of some risky worker behaviors, provides the approximate location of each person wearing one, allows the wearer to request medical attention with a push of a button and allows safety personnel to efficiently warn all workers of an emergency evacuation.
Benefits:
Track worker location and certain worker activities
Decrease accidents
Improve worker health
 Applications:
Working at heights
Working long hours
Working on the top floors of a building during possibilities of storms
Locating workers
Evacuation site inspections
One thing is for sure, construction wearables technology is here to stay and is taking safety and communication to the next level. 


Subscribe to the CONEXPO-CON/AGG 365 weekly newsletter to get more stories like this.