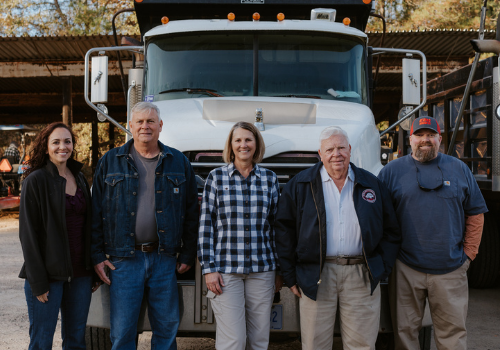 Lisa Wilson is president of G.L. Williams & Daughter Trucking, Inc. in Aiken, South Carolina and the role is a perfect fit for her.
Lisa Wilson's father, G.L. Williams, started his trucking company in 1967 with a dump truck and a loader. He started by clearing lots but the kinds of jobs he did quickly expanded, as did his fleet of trucks and equipment. In her youth, Wilson gravitated toward the business. "I was learning equipment while my sister was learning to cook," says Wilson. "I always enjoyed the outdoors and even now I enjoy hiking." Her brother drifted away from the family business for a while but is now back. One sister lives in North Carolina, another succumbed to cancer some years ago.
Wilson credits her parents for instilling the right values in her and her siblings; "Daddy imparted his work ethic and Mother kept us in church." At age 85 her dad is still active in the business. "He comes in every day. He has his own little projects."
A Different Career Path Than Intended
Despite enjoying life working in the family business, it was not what Wilson intended for a career. She went to school for medical laboratory technology. "Microbiology was rewarding, both as a field of study and as a career. I figured that's where I'd spend my working life." But motherhood changed that. Wilson didn't want to be away from her two young children to the extent necessary to meet the demands of full-time work and was able to return to her father's business on a part-time basis. Over the years part time became full time and Wilson has been working full time since 1996.
Services offered by G.L. Williams & Daughter Trucking have expanded and contracted since the beginning. The company currently has an inert landfill, six sand mines and composting sites. They recycle concrete and asphalt; much of that crushed product is used for driveways. They provide roll-off bins for businesses, homeowners and stables. "Horses are big in Aiken and we bring the manure to our composting operations." Although the menu of services is broad and diverse, the bulk of what the company does involves hauling materials. Some services are no longer provided; for example the company no longer offers sprinkler installation.
Wilson has shepherded G.L. Williams & Daughter through the ups and downs experienced by any business. And as with most businesses these days, theirs is facing new challenges and capitalizing on new technologies.
Continuing to Try New Workforce Development Strategies

The biggest challenge is finding and retaining workers. The inability to maintain required staffing levels is why the company stopped doing sprinkler installs and why they cut back on site clearing.
Wilson says the company has done everything they can think of to solve this issue. "We updated our benefits package. We accept applications online. We provide on-site training. If someone starts as a laborer and shows promise and interest, we'll train them to be an equipment operator or help them get their CDL."
The problems faced by G.L. Williams & Daughter Trucking are common to the workplace, regardless of the industry. "It seems people just don't want to work," says Wilson. The few who do want to work, have basic skills and can pass a drug test are highly sought after by countless firms aggressively courting them with signing bonuses and other incentives.
Wilson says they're fortunate to have several long-term employees. "We have good equipment and good trucks. That and the fact that we're a family business that runs on family values has helped us retain good employees." But it's still a tough time for any business that relies on labor.
Growth through Technology
While G.L. Williams & Daughter Trucking worked hard to manage personnel and labor, Wilson felt the company had not adequately leveraged available technology. "The business had been growing but I wanted to grow it more, and I knew we'd need technology to take us there."
One application of technology is in marketing. The company reached a tipping point a few years ago where demand and resources made the services of an agency both necessary and cost effective. Alison South Marketing Group got the nod. "Alison South Marketing helped us rebrand the logo and creative assets for the business in late 2020. They are a full-service marketing agency that focuses on our brand management through social media, website management, events support and more. They handle our day-to-day needs and act as our marketing department."
Most company websites are similar: "Here's where we are and here's why we're wonderful." The G.L. Williams & Daughter Trucking website has some of that but also has much more. The company contracted with Thryv to create a one-stop, feature-rich portal. Customers can schedule estimates, submit design and other files and make payments. Links to the company's social media pages are prominent and a series of buttons provides everything from account access to testimonials. Job applications are separated into general labor and drivers. The Products page include high-resolution images of available products plus brief descriptions of common uses for each.
The website is a primary touchpoint for the firm but hardly the only one; they also make extensive use of text, email, online chat and direct message. "We use technology to make sure we're easily accessible regardless of the platform the customer chooses," says Wilson.
The company also makes extensive use of GPS to optimize truck loading and routing. GPS tracking also gives insight into driver behavior and safety.
"We are always looking for ways to improve safety, productivity and customer service," says Wilson. "Effective use of technology is essential to all of those."
Join more than 50,000 industry peers who receive construction industry news and trends each week. Subscribe to CONEXPO-CON/AGG 365.