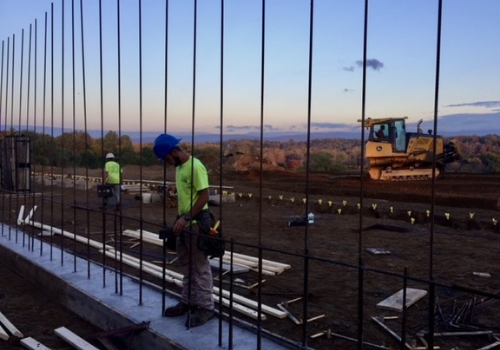 Based in New Paltz, NY, Bob Dietz & Sons was founded in 1976 is a premier full-service provider of residential and commercial excavation services. It also offers a range of property improvement services and is a supplier of topsoil and hardscaping materials. It serves the Mid-Hudson Valley region.
The company is in a transitional phase. Bob Dietz recently retired and his three sons – Brian, Tony and Joe – are taking over. "Tony and I handle the office work, bidding, purchasing, projections and the like," says Brian. "Joe, who has a real interest in technology, leads the technology side of the business."
One key to the company's success, Brian notes, "is we always try to build off an employee's interests, sometimes even more than their ability. If you have an employee that really enjoys a certain task or assignment, we try to build on that. When someone loves driving a truck, dozer or excavator, they are engaged and having fun. If they are interested in the work they have for the day, they will do a  much better job." 
A FOCUS ON TEAM BUILDING 
Turnover is generally a problem in construction, says Brian, who believes "employee turnover reflects on management. When employees leave and move on to other things, often it is because they are not engaged and do not find the work meaningful." 
Bob Dietz & Sons averages about 12 employees.
The company focuses on developing its employees, making them feel valued and appreciated and building a cohesive team. When people feel a part of a team, they are more engaged, Brian says. Team building also fosters trust and encourages communication. "Having a team spirit and the motivation to build each other up has been huge for us.
"We have an amazing team of people and this team is helping attract people who want to be a part of our company. We have always believed that if you want quality people, you have to create an environment that attracts quality people." 
COMPONENTS TO COMPANY GROWTH
Brian points to three other central components to the longevity and success of Bob Dietz & Sons. First are the company's founding principles: honesty, integrity, respect, quality work and commitment. These grew out of the practices and principles his father and grandfather developed to help make their dairy farms successful.
The two other components are effective communication and ongoing training. Toolbox meetings are held daily on jobsites to talk about safety and the day's work so that everyone is on the same page. In addition, open communication is encouraged so workers have the opportunity to share concerns and ideas. 
"We assign safety meeting topics to team members," explains Brian. "They head up the discussion on their topic, for example trench safety, the importance of clear hand signals or safely backing up on a jobsite. This helps the team member become more knowledgeable and helps others learn because a worker is getting information from another worker, rather than from a foreman who is just preaching."
Because Bob Dietz & Sons does a lot of underground utilities work, it has an ongoing utility markout training program. Utility markout trainers are brought in to talk about best markout practices and to share the latest developments and tools for markout. "This has been invaluable to the safety and production on our jobs," he notes.
The company's use of online training has increased considerably since COVID, says Brian. Many companies, like Topcon, made their training videos available online at a reduced rate. If an employee is quarantined, they are assigned online courses. Instead of just sitting at home bored, they can use the time to increase their knowledge and value to the company. 
The company also has a mentoring program for younger employees. They are assigned an experienced person to work with them. The mentor looks out for the younger employee, plus shares their knowledge, experience and advice with them.
BRAND LOYALTY
When Bob Dietz started his excavation contracting company, he purchased John Deere equipment. He was very familiar with the company and its products because he used them on the families' dairy farms, explains his son Brian. "John Deere has been a huge help to us since day one. We are loyal to the company because we can rely on their quality products and support."
Bob Dietz & Sons fleet includes 17 trucks and support vehicles, 21 machines and about 25 pieces of small equipment.
"Most of the machines are John Deere," Brian notes. "The pieces that aren't Deere will be replaced with Deere products. You pay a little more for the machines but the lack of downtime and high resale value make it worth it. Add in operator-friendly cab designs and ease of operation and you can keep the dirt moving and the profits flowing."
EARLY ADOPTERS OF TECHOLOGY
With Brother Joe having a keen interest in technology, we realized that adoption of technology and software solutions would provide a competitive business advantage. Bringing onboard software programs like Procore Construction Management, Bluebeam design and construction software and Insight 3D Earthwork takeoff software has enabled Bob Dietz & Sons to streamline business processes like bidding, scheduling and workflows, says Brian. Software also provides greater efficiency by reducing the need to enter information manually and helps speed up business decisions.
The company also takes advantage of GPS technology to make its machines more productive, precise and efficient. The technology reduces delays for surveying and man- hours for layout and offsets, Brian observes. Besides reducing human error, with GPS, the work is performed perfectly and efficiently the first time. 
In addition, "the technology opens up more work potential for us by enabling us to bid bigger and more challenging jobs. The impact that GPS has made on our company has been amazing. It is well worth the investment. If you take the time to use technology, you end up with more time."
MUST-ATTEND INDUSTRY EVENT
Someone from Bob Dietz & Sons has attended CONEXPO-CON/AGG since the early 1980s. The event is of "great value," says Brian. "We love it and promote it at every opportunity we can. In our world and what we do, we do not think there is a better show or platform to gain the knowledge we acquire from attending. 
"When you attend CONEXPO-CON/AGG, you are able to see an item, touch it, sit in it, sometimes operate it and discuss it with the engineers and manufacturers. When you walk up to a machine and talk to someone, you get answers that you are not going to get anywhere else. No local equipment dealer that can provide that. The event also helps you on stay on top of the latest trending technology."
He says he always leaves the event with many ideas and options to consider, along with a list of future purchases. "We have bought so many things based on what we saw at the show." 
One more benefit from attending CONEXPO-CON/AGG is having the opportunity to talk with company representatives and establish relationships with people you would never have met except at the event, adds Brian. It is a great place to expand one's network and solidify partnerships to help Bob Dietz & Sons evolve and better serve its customers.
Join more than 40,000 industry peers who receive construction industry news and trends each week. Subscribe to CONEXPO-CON/AGG 365.