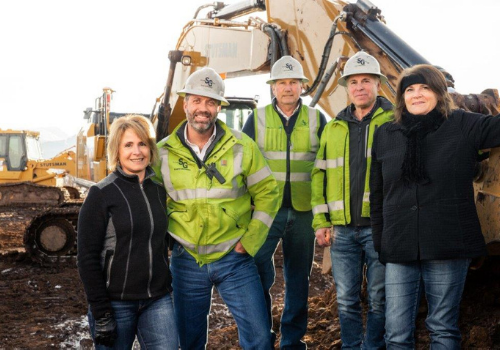 Seeing an opportunity to take advantage of Aspen, Colorado's economic upturn, Dick Stutsman and his brother-in-law, Jerry Gerbaz, transferred their ranching skills into the earthmoving industry. In 1960, the two purchased a small excavation company and formed Stutsman-Gerbaz Earthmoving.
Based in Snowmass, CO – about 15 miles northwest of Aspen, Stutsman-Gerbaz Earthmoving has grown to be the area's largest excavation business, notes company president Shay Stutsman, whose grandfather is Dick Stutsman. The multi-generational, family-owned business includes "grandparents, aunts, uncles, cousins and a team of loyal, dedicated, hard-working employees."
Services provided by the company are residential and commercial excavation, wet and dry utilities and specialties such as pond and lake construction, stream construction/rehabilitation, river rehabilitation, demolition and road/street construction. The service area is about a 30-mile radius around Snowmass. The company has about 50 employees and some 110 vehicles and machines.
TRACKING NEW TECHNOLOGY
Shay says his company is big on seeking out new and developing technologies to reduce downtime and improve its operations, efficiency and productivity. He had been the one keeping an eye on technology. The company recently hired a person to take over that responsibility.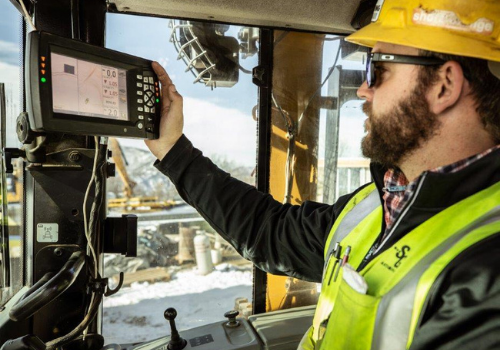 Shay highlighted some of the recent technology Stutsman-Gerbaz Earthmoving has adopted:
2016 – Incorporated GPS technology and UTS systems on the company's heavy and survey equipment to give operators and supervisors real-time information to ensure they are moving dirt or installing utilities according to plan. This eliminates the need for guess work or re-work as the information is displayed in the cabs of the equipment.
2018 – Tiltrotator technology. By enabling various angles to be achieved, this technology increases the precision and efficiency.
2019 – OilQuick quick coupler system was added to the company's excavators. The system enables the operator of an excavator to rapidly change between various hydraulic attachments from inside the cab. This has been "one of the best investments in technology we have made," notes Shay.
He says he learned about the system while in Belgium to attend a wedding. He saw the system on wheeled excavators and was "very impressed by it." Operators do not have to get out of a machine, which increases safety. Plus, the system reduces the potential for leaking hydraulic oil.
"Using the quick coupler system has been one of the biggest changes in how we do construction and earthmoving. In the past, if we were going to do a demolition job, for example, we would have to send several excavators for specific tasks. Now, we send one operator and one excavator with numerous attachments and that operator can do an entire job."
This allows the company to be more cost effective and efficient with its equipment and can reallocate labor to where it is better utilized, he adds.
Since his travel to Europe, Shay and the company embrace European styles of excavation combined with their existing strong American values and construction expertise. "We have the first variable angle boom on a next generation Cat 325 hydraulic excavator. It was the first one sold in North America."
The boom provides an expanded working envelope and increased application flexibility.
TECHNIQUES FOR KEEPING SKILLED LABOR
While finding and keeping skilled labor continues to be a problem for the construction industry, that is not the case at Stutsman-Gerbaz Earthmoving. Shay attributes this to several key elements.
One is "our company has a very strong presence in our work area. We strive extremely hard to keep our equipment clean and well maintained. We provide our workforce with the tools, equipment and training they need to get the job done safely and right."
More importantly, he points out, "the main thing we do, ever since my grandfather started the company, is to keep a good family dynamic within our company because no matter who the company is, it is nothing without its people. We treat everyone like they are family, and every single person that works here is family."
In addition, the company offers competitive wages, has a matching 401k retirement plan and pays the entirety of health insurance premiums for its employees – something that is rare for the Aspen area, notes Shay. Health insurance is a big incentive for people due to rising healthcare costs, especially for those that want to raise a family.
Then there are what he calls the "little benefits" that Stutsman-Gerbaz Earthmoving gives to its people. For example, if an employee's son or daughter has a soccer game or baseball game, the employee can take off from work to attend those games.
Another little benefit: Suppose it is a Friday afternoon and it is raining. Employees can put in for full day's work and then go home and enjoy the weekend.
You should work to live, not live to work, Shay maintains. Nobody should spend all their time working and having to schedule life around their job responsibilities.
OTHER FOUNDATIONS TO EARTHMOVING BUSINESS SUCCESS
When asked about other programs and initiatives that have contributed to Stutsman-Gerbaz Earthmoving's longevity and success, Shay points to integrity and owning up to one's mistakes. This builds credibility among customers, suppliers and employees.
Owning up to mistakes and doing what needs to be done to correct the mistake or make it right, can prevent an error from turning into a bigger problem that will be more difficult to fix, observes Shay. What's more, taking ownership of mistakes demonstrates bold leadership and can increase confidence in the company.
"To be successful in business, there are only three things you have to do," he asserts. "Do what you say you are going to do, in the time you say you are going to do it, for the price you say you are going to do it for."
ONGOING LEARNING
Also essential for business success, says Shay, is continuously learning because the construction industry, trucks and equipment, knowledge and technology are always advancing. A company that does not stay up to date on industry developments, trends and technology runs the risk of missing opportunities and becoming irrelevant in the ever increasingly competitive work environment.
One way Stutsman-Gerbaz Earthmoving works at constantly learning and growing is to attend industry meetings and events. He points to CONEXPO-CON/AGG – North America's largest construction trade show – as a particularly worthwhile event for gaining knowledge and insight.
"It is a great place to see and learn about the latest equipment and attachments as well as the newest technology," says Shay. "There is a lot of very cool stuff at the show."
"It is also a unique opportunity to see manufacturers, suppliers and companies from around the world and learn about their product offerings and how they do things."
He adds that CONEXPO-CON/AGG is a great place for networking, sharing ideas and learning from others. There is also the benefit of building relationships face-to-face and establishing friendships with others in the industry.