People seeking employment in the construction industry are often curious where the best jobs are. Obvious data like wages, job openings and projected growth play into that analysis. Many other factors also play a role in attracting construction workers, including competition for job openings, cost of living and quality of life. What is one worker's definition of a "great city or state to work in" may differ from another worker's.
Many months of positive momentum in the construction industry was disrupted in spring 2020 following the pandemic shutdowns. Now, a year and a half later, there are signs that some of that momentum has started to rev up again as we head into 2022.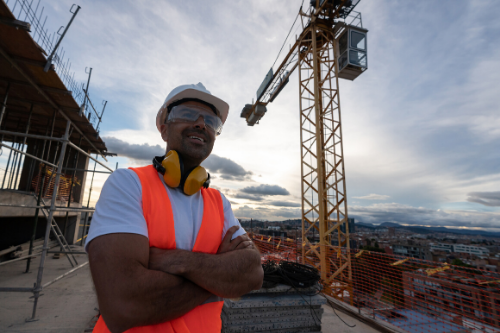 "In response to a survey we conducted, 34% of our members said they reduced headcount from summer 2020 to summer 2021," says Ken Simonson, chief economist for the Associated General Contractors of America (AGC). "However, 40% said they increased headcount. Going forward, 74% plan to increase headcount over the next 12 months (into summer 2022)."
Employment data from the Bureau of Labor Statistics (BLS) has also been encouraging. The construction industry added roughly 22,000 jobs in September 2021. While industry employment was still roughly 2.6% below the pre-pandemic peak, the gap has continued to narrow. The construction industry unemployment rate stood at 4.5% in September 2021, down from 7.1% one year prior.
More states have also begun seeing increases in construction employment. According to Simonson's analysis of fall 2021 BLS data, employment increased in 25 states from July to August. Then, from August to September, employment increased in 32 states, offering hope that things continue to head in the right direction in more locations across the country.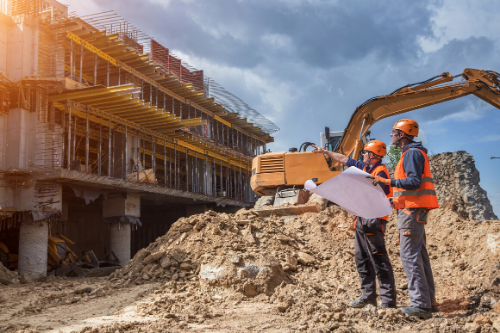 Infrastructure hopes brighten employment outlook
Looking further out onto the horizon, the prospects of an infrastructure initiative in the U.S. further ignite optimism over longer-term construction employment.
"Once the infrastructure bill passes Congress, it's going to take a while for money to start flowing from the federal agencies to the state and local agencies," Simonson cautions. "Then governments have to select the projects, advertise them and award them. So as big and important as a potential infrastructure bill is, I don't see much short-term impact on demand for construction and labor. But over the longer-term, those considering a career in construction can feel very good about their prospects."
Thousands of jobs already available
Regardless of which direction employment levels are moving, there are already countless opportunities for work in the construction industry. According to BLS data, there were 344,000 job openings at the end of August 2021, a 38% increase over the past year.
"Another thing we'd learned from our member survey was that companies are having a hard time getting applicants with the right qualifications," Simonson points out. "So apparently, many people who left the construction industry during the pandemic shutdowns are not coming back, or at least not coming back to the right geographic areas that are in need of workers."
So where are those right geographic areas?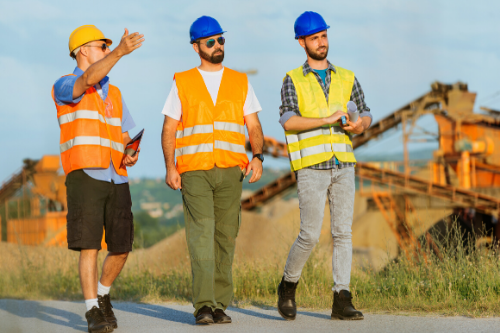 States with the most jobs
The most recent BLS data from May 2020 shows that the entire U.S. construction industry employs roughly 5.938 million people. That is down from 6.194 million in 2019. However, things are headed in the right direction. BLS data suggests that the number of construction industry jobs is expected to grow 7% through 2030.
As for right now, BLS data shows that the states with the most construction jobs are:
California – 672,280
Texas – 608,110
Florida – 413,800
New York – 311,430
Pennsylvania – 213,630
Illinois – 181,550
Ohio – 178,900
North Carolina – 178,710
Virginia – 165,410
Washington – 161,780
One interesting thing to note is that many of the states with the most construction jobs are not among the best-paying states. In fact, Texas, Florida, Ohio, North Carolina and Virginia all pay an average wage that is below the national average. That is why it's important for construction industry jobseekers to not only look for the hottest job markets, but also consider other factors such as earnings potential and overall quality of life.
States with the best wages
BLS data from 2020 shows that the average hourly wage for a "construction and extraction" worker is $25.93. That is a solid increase from 2019 when the average was $22.80.
Of course, construction workers in some states garner a higher wage than others, likely for a variety of reasons. Regardless of what those reasons are, the top-paying states are:
Hawaii – $35.08
Illinois – $33.86
Massachusetts – $32.65
New York – $32.49
Alaska – $32.33
Washington – $32.23
New Jersey – $31.51
California – $30.78
Connecticut – $30.15
Minnesota – $30.09
States with the most growth potential
Jobseekers should also look at indicators that suggest sustained growth in construction activity.
"Those indicators are economic growth and population growth," AGC's Simonson says. "When those indicators are strong, the situation is much different than when, for example, there is a hurricane or other natural disaster that leads to a lot of temporary construction activity in a certain state."
Construction activity. According to Simonson's analysis of data from the Bureau of Economic Analysis, the following states spent the most on construction in 2019 (numbers depicted in billions):
California – $118.1
Texas – $100.9
Florida – $58.7
New York – $53.8
Pennsylvania – $34.3
Illinois – $30.9
Georgia – $26.3
Ohio – $26.2
Washington – $25.7
New Jersey – $24.1
Population. Below are the 10 most populous states based on data from the U.S Census Bureau (numbers depicted in millions):
California – 39.512
Texas – 28.996
Florida – 21.478
New York – 19.454
Pennsylvania – 12.802
Illinois – 12.672
Ohio – 11.689
Georgia – 10.617
North Carolina – 10.488
Michigan – 9.987
Population growth. While having a large population is important, it is equally important to have a population that is growing. As more people move into an area, the need for additional housing and other infrastructure increases. According to U.S. Census Bureau data, the states with the most population growth from 2010-2020 are:
Utah
Idaho
Texas
North Dakota
Nevada
Colorado
Florida
Washington
Arizona
South Carolina, Oregon, Georgia
And the 10 best states for constructions jobs are ….
When considering all of the factors described above, the following states are the 10 best states for construction jobs:
California
Illinois
New York
Washington
Texas
Florida
Pennsylvania
Ohio
Georgia
North Carolina
Well beyond the top 10 states listed above, there are a lot of great things happening in the construction industry. From job opportunities and outstanding wages to prospects for future growth, now is a great time to build a great career in the construction industry.

Read Next: Best Cities for Construction Jobs


Subscribe to the CONEXPO-CON/AGG 365 weekly newsletter to receive more insightful stories like this.


Want more tips on growing your career or attracting and retaining top talent? Download our Ultimate Construction Career Guide.