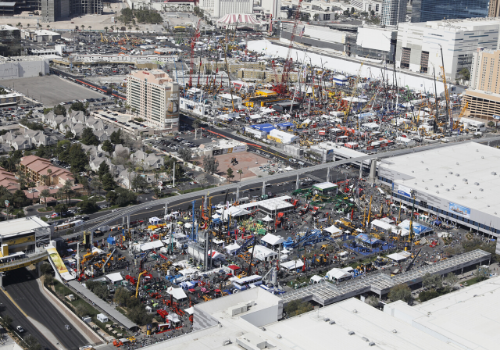 MILWAUKEE (March 6, 2020) – An overwhelming majority of CONEXPO -CON/AGG exhibitors have confirmed their participation in next week's show in Las Vegas.
"With all the news about COVID-19 and the speculation regarding CONEXPO-CON/AGG & IFPE, I want to provide an update on planning, including commitments and cancellations. Here is where we stand," said AEM President Dennis Slater.
Travel restrictions related to international travel and corporate policies have impacted some companies that planned to exhibit at the show. 
The CONEXPO-CON/AGG cancellations that we've received represent 44,950 square feet out of 2.7 million net sq. ft. of exhibit space, which represents about 1.7 percent of the total space. We've re-sold 15,000 square feet of this cancelled space.
Volvo CE continues to have their display at the show with hired staff. Here is the Volvo statement:
REACTIVE STATEMENT
Since announcing our decision to withdraw from Conexpo-Con/Agg 2020 due to the coronavirus, Volvo CE has been working very closely with our partners at AEM to determine the best path forward.
At this point in preparations it would not be possible for Volvo CE to remove the equipment and dismantle the booth before the show begins. Instead, a small number of locally hired independent staff will remain on the site for the duration of the show. The booth will be ready for show opening on Tuesday March, 10th.
Volvo CE is deeply appreciative of AEM's collaboration in this difficult moment and recognizes the great value that the Conexpo-Con/Agg show brings to our industry and our customers every three years.
For additional questions please contact Dave Foster/Tiffany Cheng
March 2020
No major exhibitors have cancelled from CONEXPO-CON/AGG and many companies are reconfirming their commitment to participate. We appreciate their leadership and commitment to our industry, equipment end-users and our members.
We may see more cancellations, but the majority of cancellations have been limited to booths 400 sq. ft. and under.
We have already resold 15,500 sq. ft. of this cancelled exhibit space.
For attendance, we have added 18,000 new registrants since Feb. 21 when the travel restrictions and coronavirus started to have an impact. That total is far outpacing the last show and also our cancellations to date.
Customer cancellations are focused on international registrants and some big U.S. corporate customers placing travel restrictions.
Total registrations as of yesterday is over 120,000 and climbing. Even if the cancellations total 10,000, which they don't to date, we have a huge audience of customers coming to the show. 
For IFPE, the event has been harder hit by cancellations due to the large international exhibitor presence and corporate travel policies.
The IFPE cancellations that we've received represent 34,680 square feet, which represents about 20 percent of the show floor. We've re-sold 3,300 square feet of this cancelled space.
"We know customers are committed to attending the show in numbers and they are expecting to see and purchase equipment from the manufacturers of the best equipment in the world," said Slater.
About CONEXPO-CON/AGG
Held every three years, CONEXPO-CON/AGG is the must-attend event for construction industry professionals. The show features the latest equipment, products, services and technologies for the construction industry, as well as industry-leading education. The next CONEXPO-CON/AGG will be held March 10-14, 2020 in Las Vegas, Nevada. For more information on CONEXPO-CON/AGG, visit https://www.conexpoconagg.com.
About the International Fluid Power Exposition (IFPE)
IFPE and the co-located CONEXPO-CON/AGG exhibitions will be held March 10-14, 2020 at the Las Vegas Convention Center in Las Vegas, Nevada, USA, targeting the fluid power/power transmission/motion control and construction and construction materials industries. Do not miss your chance to experience the great education lineup IFPE is offering in 2020.
About the Association of Equipment Manufacturers (AEM)
AEM is the North America-based international trade group representing off-road equipment manufacturers and suppliers with more than 1,000 companies and more than 200 product lines in the agriculture and construction-related industry sectors worldwide. The equipment manufacturing industry in the United States supports 1.3 million jobs and contributes roughly $159 billion to the economy every year.
Media Contact:
Sandra Mason, APR
Director of Public Relations
414-298-4122 or 920-342-4405