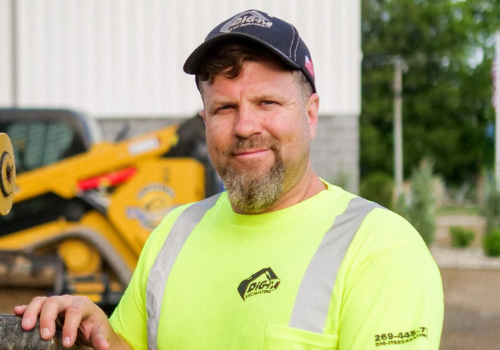 When Dervin Witmer started his Cassopolis, Mich. excavating business in 2005 he believed a professional image would help him win jobs. When used equipment and trucks were purchased they were painted to look fresh and branded with the Dig-It Excavating logo.  A new Porter Township Sewer System and Treatment Plant opened in southern Michigan created opportunities connecting homes to the system. He grew aware of a growing need for septic services. In 2006, the Pump That Septic service brand was added to Dig-It Excavating.
Growing through social media marketing
"A lot of the companies in the sewer industry don't have a focus on image. We wanted a clean look," says Witmer. Traffic to their website grew as the company shot instructional videos and posted them on their website and social channels including YouTube, Facebook, Instagram and Twitter.  As of May 2021, the company had more than 36,000 Instagram followers." We promote professionalism," says Witmer." Employees are uniformed, clean and presentable and equipment is well cared for.
"What we found is that the septic business fed into the excavation side of the business," says Witmer. The company performs repairs on public infrastructure, as well as the septic and sewers of commercial and residential customers. Marketing consists of radio ads, billboards and social media. Daily jobsite videos and photos highlight the company's daily work and educates customers.
"When I get a job lead and provide a quote, sometimes I may not even meet the person," says Witmer. "They have already researched us and determined that this is the kind of company they are comfortable working with. We really sell our selves before a customer calls us. They know all about us from the videos. There is no pressure to close a sale."
Another way Dig-it Excavating has expanded its business is to delve into alternative septic technologies such as aerobic treatment unit systems and advanced treatment leachfield systems. These systems typically require two or three site visits per year for cleaning filters, monitoring and maintenance.
All in the family
Witmer's brother-in-law joined the business in 2006 and now his sons, daughter and two of their kids' friends work in the business. Dervin looks for self-motivated employees who are willing to listen to the opinions of others. "You have to be able to work well with the customer and each other," he says.
Witmer tries to make the work environment fun by having quality equipment and vehicles for the staff to operate. The team is involved in many social events together outside of the work environment.  Because their business is very busy in the summer, he expects staff to take most of their time off when things slow down.
Dig-it takes advantage of training at trade shows and local health departments. Employees learn about pipe laying, pumps and controls, safety and new technology.
About the fleet
The current Dig-It fleet consists of three Kenworth T880s, two vac trucks, a quad angle dump truck, and a Talbert 25 TON tri-axle tailer for hauling equipment.  
For earthmoving they rely on the CAT310 and CAT 306 next-gen excavators with Engcon tiltrotators and Trimble Earthworks laser grade control.  A CAT D5 dozer is deployed on larger earthmoving jobs. A CAT 299D3 compact track loader adds versatility with attachments such as CAT PR185 Power rake and the Earthbuster, a deep-soil decompactor is used for septic system restoration.  An F4450 Ford service truck is equipped with a crane so they can pull and replace pumps.  Service vans are used for camera inspections and drain cleaning. "We are definitely open to using new technologies to be more productive," says Witmer. By purchasing newer equipment the company keeps owning and operating costs down. They will occasionally rent rollers and larger machines when the need arises.  
Growth has been steady. The company recently moved into a new 9,600 square-foot-facility that includes offices, a conference room and four truck bays for parking, mechanical work and a wash bay. Covid-19 proved to be a positive impact on the septic business. With more people at home, water usage increased causing strain on the septic systems. 
Future plans
"The challenge is to not grow so fast that we are not responsive to customers," says Witmer. He is also concerned about maintaining work life balance for employees. "I'm willing to take fewer jobs if it means maintaining good morale."
Witmer currently is pondering several questions that will determine the next steps in the company's growth plan. "I need to figure out if I want to stay on the operations side of the business and replace myself on the estimating sales side or replace myself on the equipment side of the business," says Witmer.
Right now, Dig-it manages with an employee who is a part-time mechanic, but growth could mean hiring someone full time. With the new headquarters in place, Witmer hopes to streamline their operations. "We want to look at what the most profitable parts of the business are and focus on that."
No matter what Witmer decides, he plans to stay true to his vision of building a sustainable and professional business in the excavating and septic service industries.
Join more than 50,000 industry peers who receive construction industry news and trends each week. Subscribe to CONEXPO-CON/AGG 365.