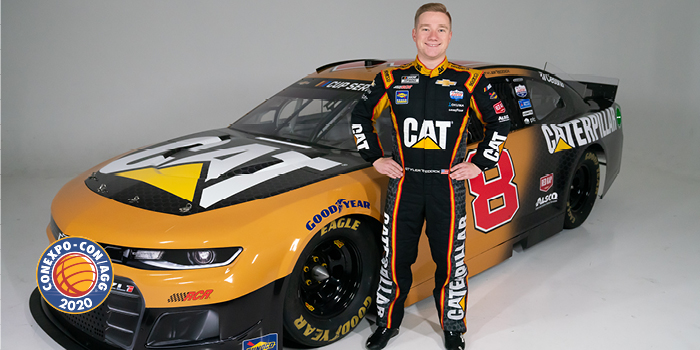 MILWAUKEE – CONEXPO-CON/AGG 2020 is excited to announce a plethora of Tech Talks, including one from NASCAR driver Tyler Reddick, that are taking place at the Tech Experience at CONEXPO-CON/AGG 2020 in March.
Reddick, and his crew chief Randall Burnett, will be discussing the role that technology plays in NASCAR and how it has evolved over the years. Reddick and Burnett utilize all sorts of technology to gain a competitive edge in their careers and their Tech Talk will explain how technology helps them prepare, strategize and evaluate each race they compete in.
The Tech Talks forum offers short content-rich presentations to inspire and inform. The Talks are an integral component of the show's Tech Experience, focused on emerging trends and solutions directly affecting the construction industries in key areas of the jobsite, workforce and infrastructure. The award-winning exposition is back for another show cycle and is featuring several fantastic speakers and sessions throughout its duration.
"We're thrilled to have Tyler, Randall and the rest of the Tech Talks speakers at this CONEXPO-CON/AGG," said Dana Wuesthoff, show director and vice president of exhibitions and event services at the Association of Equipment Manufacturers (AEM). "We're confident that this lineup of speakers will provide an unforgettable and valuable experience for CONEXPO-CON/AGG attendees looking to learn more about technology within their industry".
Among the 25 total Tech Talks at CONEXPO-CON/AGG are topics that discuss turning concrete into batteries, transferring energy from highways to electric cars, smart cities withstanding the force of nature and several more. Below are some of the featured Talks taking place at the Tech Experience.
Driving Decisions with AI – Bassem Hamdy, co-founder and CEO, Briq
The Design and Print of Future Structures – Platt Boyd, founder and CEO, Branch Technologies
Rebuilding Better for Resiliency – Desiree Matel-Anderson, CEO, Global Disaster Innovation Group, LLC
The Ray-Creating the Highway of the Future – Allie Kelly, executive director, The Ray Project
Turning Concrete into a Battery – Ronald Pellenq, research director and senior research scientist, CNRS
Gadgets in Construction – James Benham, CEO, JBKnowledge
Wireless Energy Transfer – TBA
View the Tech Talks forum 25-session lineup online.