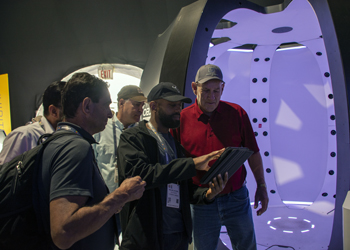 LAS VEGAS (March 13, 2020) – Whether it is artificial intelligence, autonomous equipment, big data, small gadgets, new energy technologies, sustainable highways or the future of cities themselves, CONEXPO-CON/AGG/s Tech Experience focuses on what contractors and manufacturers need to know to keep ahead of the technology curve.
"I'm amazed at what some of the minds we have here at the Tech Experience think up," said Helen Horner, Director of Education Programs at the Association of Equipment Manufacturers (AEM), the organization that co-owns and operates CONEXPO-CON/AGG. "What we're seeing in bringing all these ideas to one place is how some of them connect to form new ideas. Hopefully, those ideas germinate after the show to give us even more amazing technology to explore at the next CONEXPO-CON/AGG."
One example was a Tech Talk on wireless energy transfer built into roadways to continuously charge electric vehicles while they drive, followed by a talk on turning concrete into a battery.
"New ideas and new connections are the core of what we want people to experience at CONEXPO-CON/AGG," said Show Director Dana Wuesthoff. "The big iron and big deals are definitely fun, but the technology, information and education are what secure the future of this industry, and the continuing viability of the businesses that attend and exhibit here."
Some of the Tech Talk highlights included:
 Driving Decisions with AI: The insights that Artificial Intelligence can now gather for your organization are unparalleled. In this presentation you will hear how your construction data can be used to identify the right projects, people and problems before it is too late.
 Smart Cities: The technology to build Smart Cities of the future is available today. Digital solutions are providing data to better manage job sites. New generations of construction employees will leverage the big data, advanced automation and virtual site mapping to build the smart cities of tomorrow.
 3D Printing Buildings – Current Possibilities & Future Implications: Branch Technology presents their first demonstration structure as a house created entirely by 3D printing! Using the world's largest freeform 3D printers, the shape of the next generation of housing appears in several weeks instead of several months.
 Wireless Energy Transfer: Imagine an electric vehicle like a Tesla or BMW driving down the road and maintaining a 60-80 percent charge the entire way! Wireless power transfer on roadways means that electric vehicles can charge as they drive.
 Prevention & Protection of Traumatic Brain Injuries: Prevention of work-related traumatic brain injuries (wrTBI) is of uttermost importance. One study showed that 45% of patients had not returned to work five years after the accident. This presentation provides an overview of wrTBI in the construction industry in North America and Europe, with a focus on the events causing wrTBI.
Editor's Note: Photos and b-roll footage can be found here.
About the Association of Equipment Manufacturers (AEM)
AEM is the North America-based international trade group representing off-road equipment manufacturers and suppliers with more than 1,000 companies and more than 200 product lines in the agriculture and construction-related industry sectors worldwide. The equipment manufacturing industry in the United States supports 1.3 million jobs and contributes roughly $159 billion to the economy every year.
About CONEXPO-CON/AGG
Held every three years, CONEXPO-CON/AGG is the must-attend event for construction industry professionals. The show features the latest equipment, products, services and technologies for the construction industry, as well as industry-leading education. The next CONEXPO-CON/AGG will be held March 10-14, 2020 in Las Vegas, Nevada. For more information on CONEXPO-CON/AGG, visit https://www.conexpoconagg.com.
###
Media Contact:
Justin A. Metzger, MA
Manager of Public Relations
CONEXPO-CON/AGG + IFPE
414-274-0677
jmetzger@aem.org