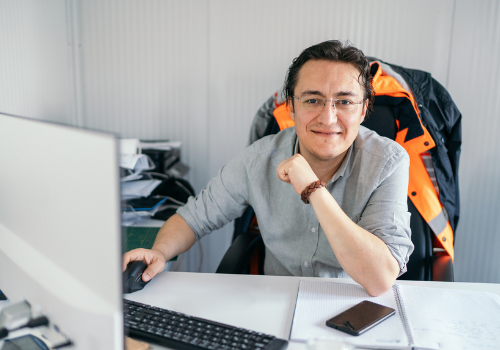 Estimators are often racing against the clock when preparing a construction takeoff and estimate. They juggle multiple projects and are frequently faced with the challenge of design plans that are incomplete or inaccurate.
"Contractors live and die by the quality of their estimating department," says Abe Schainker, senior vice president, cost management for JLL, a leading professional services firm specializing in real estate and investment management.  Bid too high and you risk not winning the job.  Bid too low it could mean a loss.
"The estimating system is the sales tool of the construction world," says Jeff Gerardi, president and CEO of ProEst, a provider of technology to automate the estimating and preconstruction process.  It's essential to win business and it starts with a construction takeoff.
A construction takeoff determines how much material is needed to complete a job. Multiply by the number of units by the price of the material to calculate your material costs. Add in the cost of labor, equipment, subcontractors and administrative personnel, fees, insurance and desired profit. All of this goes into the estimate. The tools for the job have evolved over the years from hand scales and wheels to sophisticated software.
Consider estimating software

Microsoft Excel spreadsheets are the most common way to put together estimates, but Gerardi cites compelling reasons for moving to a cloud-based estimating platform. Collaboration is a significant driver. "As multiple people get involved in putting together an estimate, the ability to collaborate on an estimate in real time is important," says Gerardi. "As a company grows it becomes more apparent that you need to better manage the estimating process."
ProEst makes it possible to scale up without incurring additional costs because fees are not charged per user.  Instead, companies pay a small percentage of the value of the jobs they are awarded.  "We want everyone to have access to the software," says Gerardi.  A cloud-based platform means that contractors don't have to worry about maintaining or updating the system. Being accessible from anywhere is an advantage for an increasingly mobile workforce.
In Excel it's more difficult to lock down standard pricing and productivities with multiple users. "If you want to re-use information and track historical trends, that's where Excel is not going to be beneficial," adds Gerardi.

Schainker sees advantages to estimating software but he doesn't believe it's for everyone. "Contractors may feel their templates are working just fine and they don't want the added complexity," he says. "There are pros and cons to both options." The fact that Excel is included with the cost of a computer purchase makes it attractive.  Excel spreadsheets are also very flexible and can be highly customized to a particular project.
Estimating software has the advantage when it comes to accessing data that can be used by multiple people throughout the organization on future projects. "One of the biggest benefits is to data mine the information for later use, such as the cost of concrete or structural steel," says Schainker.
Speed is essential to successful estimating and it may be a good reason to move to estimating software. According to Gerardi, ProEst users experience a 50% productivity gain versus Excel. Payback on the investment is typically achieved within one year. Contractors can determine an estimated ROI with a calculator on theProEst website.
If you decide that estimating software is right for your business, look for those that integrate well with your construction management software. Integration means you can easily compare estimates with actual costs as you move from project conception to completion.
Understand that the tools are only as good as the user
Regardless of the tools used, estimators need to fully understand the construction process and how the estimate will be used.
"Estimating tools are only as good as the user that wields them," says Schainker.
Sometimes owners ask for a preliminary bid and other times they want a full lifecycle analysis. At the beginning of a project, estimators may only be working with a description of the project, rather than drawings. "We have to price not only what is shown but the entire scope of the project," said Schainker.
He cautions that default unit pricing may not fully account for all of the factors that can affect the price of materials and labor including construction volume, availability of key trades, and supply chain issues. "All of this needs to be reflected in your estimate," said Schainker.
As an owners' representative, he wants to be sure the contractor's estimates are accurate, and there aren't going to be any surprises. "I am not here to beat up on the contractor," says Schainker. "Everyone has a right to make money."
Build estimating talent from within
Estimators in the U.S.  often learn their skills on the job. Schainker believes few construction management programs give estimating the attention it deserves. Estimators are always in demand and it's difficult to find people with the right experience. "The solution is to bring on more junior people and spend time teaching them how to read drawing and specifications," says Schainker. "They need to learn how to ask the right questions."
Unfortunately, it's not uncommon to invest time training someone, only to have them leave. "There's no quick fix to the problem," adds Schainker.
Based on Schainker's experience, project overruns are usually a matter of the scope of the project changing without the budget being updated, rather than a failure of the estimator. Regardless, a final audit is a good way to identify what cost estimates were accurate and why there were variances on other projects.
Join more than 50,000 industry peers who receive construction industry news and trends each week. Subscribe to CONEXPO-CON/AGG 365.
Read Next
5 Strategies for Better Construction Bidding
More Successful Earthwork Takeoffs: 4 Expert Tips for your Next Bid