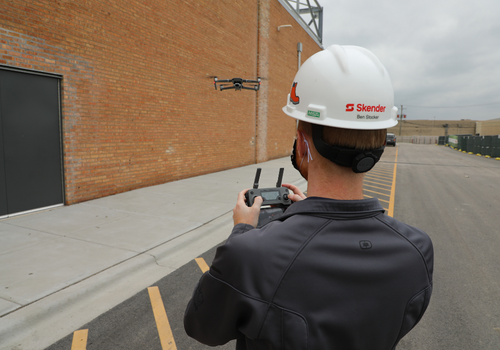 While the number of construction firms using drones appears to have flattened, use cases in construction are expanding and the number of flights is increasing as technology advances. In a recent survey of civil contractors conducted by Dodge, 46% percent utilize drones in their operations, down from 50% in 2021. Despite that dip, another 24% of civil contractors are considering usage, up from 19% in 2021. The same study found that the intensity of drone usage has been steadily on the rise. Currently, drones are being utilized on 55% of projects, up from 48% in 2021 and 36% in 2022.  According to Dodge, usage is higher among large contractors (67%) compared with small contractors (9%).
The benefits of drones on the jobsite for Skender
For Chicago-based general contractor Skender, a drone is an essential tool with an increasing number of applications. While the bulk of the company's work is interior build-outs, it also constructs multi-family and commercial construction projects from the ground up. It's on these outdoor projects where drones are proving their value.
Ben Stocker first experimented with drones as a project engineer for Skender but after demonstrating the value of drones to management, he transitioned to a new role of Construction Technologist. He's responsible for researching new technologies to support construction teams as well as implementing those technologies. He spends much of his time completing reality capture work with drones and laser scanners.
Stocker has been a licensed drone pilot for seven years and currently uses a DJI Mavic 2 Pro for routine flights and a Skydio 2+ for flying in more complex environments. Skydio 2+ is an autonomous drone with advanced object avoidance technology and the ability to operate even where there is strong magnetic interference or unreliable GPS.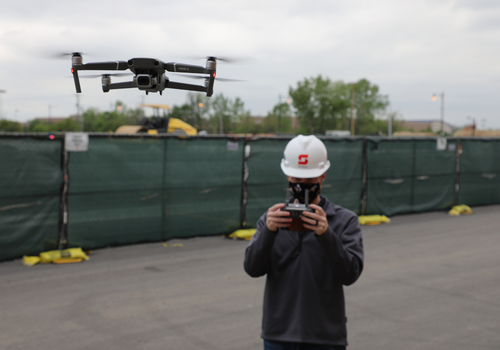 According to Stocker, the ability to showcase jobs with video taken from a drone is a great initial use of the technology. "Drone footage is a great way to show off your jobs in pitches or social media," says Stocker.
For imagery to truly move beyond marketing to workflow applications requires photogrammetry software. The software transforms images into high-resolution maps, mosaic maps, and 3D photogrammetry models. Skender uses DroneDeploy, which also makes it easy to share data. "Project managers are invited to a project and get notifications when new data is added to the folder," says Stocker. "It's also extremely convenient to pre-plan all your flights," says Stocker. DroneDeploy's mobile app includes a check of local airspace to ensure flights comply with FAA regulations.
Members of the construction team can import, overlay and view design plans directly over their flight maps. With a side-by-side record of progress, costly mistakes can be caught early in the construction process.
Skender recently used drone imagery for a cut and fill and slope analysis on a golf course project. "It's not survey-grade, but it can be good enough for quick checks in a lot of situations," says Stocker.
Inspections are another time and money-saving application for Skender. For example, Stocker can set up an automated grid pattern to inspect a whole façade of windows. Photos can be taken from a drone in minutes, while a human on a lift or scaffolding would take many hours. "In addition, the Skydio drone can automatically fly around equipment that may be in the way on an active jobsite," says Stocker.
With a low price point compared to other construction tools, Stocker believes it's easy to justify the investment. "Being able to get data that you couldn't get before, as well as the ability to get the data so quickly, make drones extremely valuable," he says.
When COVID-19 hit, Skender increased its drone flights to keep people who weren't on the jobsite informed. "That really changed the way people think about the need to be onsite," says Stocker.
Sundt Construction finds success with drones on the jobsite
Drones are also a key tool for Sundt Construction, one of the largest general contractors in the United States with approximately 1,500 employees. The 131-year-old employee-owned firm specializes in transportation, industrial, building, concrete, and renewable power work.
According to Dean Miller, Virtual Construction Engineer at Sundt, the company's drone program started as a few guys flying a DJI Phantom 2 over a jobsite to take pictures of the roof. It has evolved into one of the leading drone programs in the nation with nearly 30 pilots and a fleet of DJI and Skydio drones.
"We are using drones in every sector of our business," says Miller. Applications include 2D orthomosaic mapping, surveying, building 3D models, gathering volumetric measurements and cut/fill analysis, and more. DroneDeploy and Propeller software is used to transform drone imagery.
"Advancing technology has increased our use cases and the number of flights we are conducting is increasing because of it," says Miller.
For example, Sundt is using Skydio's 3D Scan technology to get an in-depth analysis of areas that might prove to be dangerous for human inspection. "This gives us the ability to reduce injury on jobsites and bring these inspections and data analysis to the comfort of a desktop," says Miller.
Using an RTK (Real-time kinematic positioning)-enabled drone and Propeller AeroPoints, Sundt can get very precise volumetric measurements; down to .5 centimeter accuracy. "This is useful for measuring stockpiles and determining grade and slope."
Flying a drone requires a Part 107 license from the FAA, and unless a waiver is obtained, the drone must be within the visual line of sight of the pilot. Sundt Construction's drone pilots are not only licensed, they are construction professionals who fly drones in addition to their construction roles. "The intention is that the additional duty of flying drones reduces the amount of work they must do in the field and in the office," says Miller. In addition to earning a Part 107 license, pilots receive additional training from Sundt Master Pilots to prepare them for flying over a construction site which presents obstacles and situations, unlike any other airspace.
Advice on getting started with drones
With a relatively low cost compared to other jobsite technologies, drones can work for both small and large construction firms. No matter the size of your firm, Miller and Stocker recommend starting small.
"The key to finding success with a drone program is starting small and creating a comprehensive set of policies and procedures," says Miller. "After this, it will be much easier to scale your operations and instill confidence in your program.
Millers says using a drone service firm is a good way to determine the results that best fit your needs. "After this, you can begin to research the hardware and software necessary to build your drone program."
Because drone services tend to be expensive, Stocker thinks an outright purchase might work just as well. Software providers typically have flexible pricing on a monthly or annual basis for individuals as well as teams.
Future of drones in construction
Many in the drone industry anticipate that some FAA regulations will ease in the coming years. For example, the FAA may allow flights without a pilot on-site. This would further reduce costs and is likely to greatly increase the number of flights over construction jobsites. In addition, flying beyond the visual line of sight may become possible, enabling flights over much greater distances. This would be very valuable in linear applications such as highway or pipeline construction. Currently, these practices are only allowed with waivers obtained from the FAA. In addition to the drones themselves, imaging technology is also advancing which may reduce costs and create opportunities. With change on the horizon, it's smart to keep an eye on the future of drones flying over construction sites.
Watch this video about Sundt's use of autonomous drones from Skydio.
Read Next
Drones are Benefitting Earthmoving Operations 
How to Get Started with Drones in Construction 
How Construction Drones Give Contractors a Competitive Edge