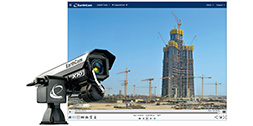 Construction projects present a host of challenges. One challenge is being able to view and monitor the progress of an outside area exposed to the elements. While most construction cameras address these issues, there are new, unique and innovation solutions.
One example is EarthCam's new construction camera solutions for the Gulf region. The smart camera technology works in the most demanding environments, with hardware that includes a self-maintaining wiper/washer, sand-resistant glass and cooling systems. This technology provides project managers and owners clear, clean views of the jobsite and progress.
The technology has a 4K video quality and a time-lapse Webcam capable of producing more than 10 billion pixel panoramas. The technology is used on projects such as the FIFA World Cup 2022 Stadiums, Abu Dhabi International Airport Midfield Terminal, Louvre Museum, Qatar Rail and Jeddah Tower.
Every aspect of these major projects is documented with precision, delivering highly detailed archived images for historic record. The time-lapse editors transform these photos into professional hand-edited movies, preserving the construction process.
While this is one example of handling the outside elements on the jobsite, there are many solutions. These cameras provide information to the owners and project managers looking at work.