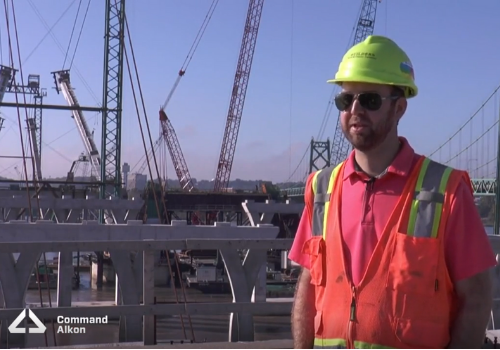 Technology in the construction industry has not changed much over the years. Studies indicate the industry is way behind other industries in terms of automation, innovation and adapting to change. Most jobsites and projects are plagued with the standard list of challenges, including disjointed communications and workflows, lack of visibility to delivery information, budget overruns and tedious and manual cost tracking and billing processes.
What's more, noted presenter Justin Mannina, business development manager, Command Alkon, at CONEXPO-CON/AGG 2020's Educational Session, Digital Collaboration: Creating Value on the Jobsite, the construction industry is trending in the wrong direction as far as improving overall. A study by management consulting firm McKinsey & Company found that productivity in manufacturing has nearly doubled whereas in construction it has remained flat.
Command Alkon is a global innovator of software and technology solutions for producers, suppliers, contractors and haulers of ready-mixed concrete, concrete products, aggregate, asphalt and cement.
"There is the need to do things quicker, faster and cheaper," he says. "The question is: What are we doing about that?"
Mannina, along with Command Alkon's Alex Moody, senior project manager, and Kyle Wilberts, customer success manager, discussed jobsite and project challenges, how to deal with them by employing digital collaborations and evolving technologies and how to implement different methodologies that empower industry trading partners to improve efficiency and profitability that benefit all parties and projects. 
Championing New Innovations
One way to improve jobsite efficiency and profitability is "to challenge yourselves – as a management group – to look at problems and successes with past jobs to see what went wrong, what went well and what new innovations to try," says Mannina. "Managers need to champion this because success comes by having a top down approach with buy-in from the manager level all the way done."
Another is "digital collaboration with suppliers and vendors. Think of what you could do with transformation data and collaboration."
Challenges with Connecting the Construction Supply Chain
A lot of exciting things are happening when it comes to digital technology in construction, says Alex Moody. More companies are going from paper to digital blueprints. An increasing number of mobile devices and apps are available at the jobsite. There is access to much more available data and a greater use of analytics.
"Nevertheless, there are still challenges when it comes to digitalization in certain areas of construction, for example the heavy building materials supply chain, which still lives in a world of manual processes. This is a complex web of point-to-point solutions between owners, contractors, producers, material suppliers and haulers.
"We are still picking up the phone to get information, rekeying in data, printing things that are already in a computer system, handing off tickets, dealing with a slew of apps, signing documents and tickets in the field, scanning them in, trying to invoice at the end of the day to get paid."
The use of digital technologies is a way to deal with these challenges, say Moody. "This is dramatically different from traditional collaboration as it connects a broader network of participants who can accomplish much more than they would on their own."
Unlike other industries, such as manufacturing, the construction industry "does have the luxury of working in a controlled, fixed environment where we are loading and unloading material. We are at a jobsite or a plant. Not until the adoption of mobile devices have we been in a position to take advantage of digital technology."
The supply chain is really a "many-to-many relationships" with many suppliers working with many buyers, Moody explains. The ecosystem of the supply chain participants is "very complex" as they are using different apps, project management systems, accounting and ERP systems, reporting and analytics systems, etc. The challenge is: How do we start connecting everyone one and allowing them to collaborate?
"The vision is to digitize and connect the entire construction materials supply chain and allow these systems to work together."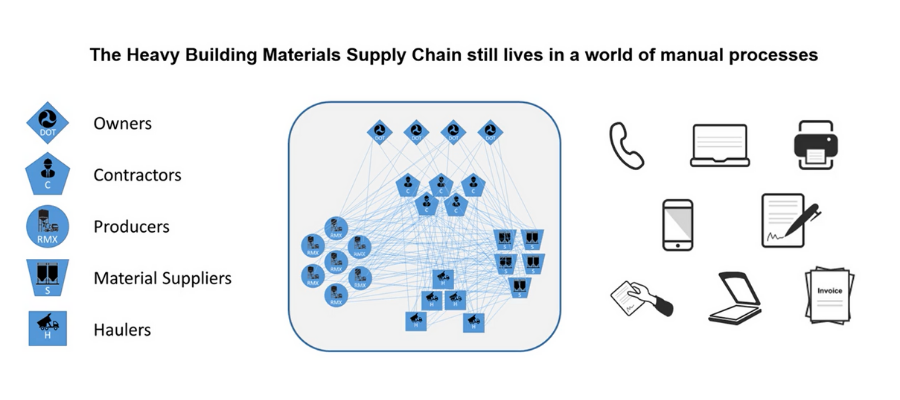 An Open Platform, Designed for Construction
An industry collaboration platform needs to be an open, network-based technology platform specifically designed to for construction's heavy work and support multiple materials types, like aggregate, asphalt, concrete and cement, says Moody. The idea is to easily connect the supply chain partners – contractors, suppliers, haulers and producers – to deliver electronic transactions, share and exchange date and streamline inter (B2B) and intra-company processes using the same platform. There are needs to be integration with technology partners and third-party solutions.
"This enables business insight with reporting and analytics tools which provide real-time, actionable information to power business and provide visibility across the supply chain."
Along with the implementation opportunities to improve efficiency and profitability that come from new technologies and digital collaboration comes challenges, Command Alkon's Kyle Wilberts adds. "The first is that everyone in the supply chain needs to be onboard, otherwise implementation will be particularly challenging."
Key Questions to Ask When Moving Into Digital Collaboration
Wilberts says the most important questions to ask when moving into digital collaboration are:
- Is the software provider you are researching willing to work with a network or are they saying they are a standalone company? "If they are, that should be a red flag because the network does not operate on one single software. Software companies need to be willing to work with other software companies."
- What information do you desire, what data do you want to capture and how are you going to capture it? This is probably the most challenging step for now, he says. As the industry moves forward, capturing valuable data will become easier.
-  Why are you moving into digital collaboration? There must be a "mentality of continuous improvement or you are doomed," warns Wilberts. "Once you start adopting technology, you are going to have to continue to move forward because technology continues to evolve."
- Are you doing this to replace people? Technology is not necessarily a way to reduce manpower and in some cases it may result in the opposite, he says. That is not necessarily a bad thing because if you become more efficient and start making more money, you grow your business and become more successful.
- How do you plan on supporting digital collaboration? "This is crucial," stresses Wilberts. "If your people are unwilling to change, you need to recognize that. This goes to the heart of change management which is, in my opinion, the biggest issue we have in our industry today. People are not willing to change. If your workforce is unwilling to make even small changes, you are really going to struggle with technology."
Join over 40,000 industry peers who receive construction industry news and trends each week. Subscribe to CONEXPO-CON/AGG 365.